Host your event at a truly unique and stunning venue.
Whether it's a wedding that wants to take advantage of our 18th Century Church setting, or a Christmas party that needs world-class entertainment as part of their event package, this is the place for you.
We understand that every event is as unique as you are. We work flexibly with clients and pride ourselves on our ability to help you organise the perfect party. Our grand entrance from the characterful Portland Square leads into a stunning main hall with stained glass, soaring pillars, original tiling and a theatre quality lighting and sound rig. We are suitable for a wide variety of events and have played host to weddings, seated dinners, birthday parties, corporate away days, award ceremonies, gigs, and everything in between. Even Amy Winehouse graced our stage when she once did for a show for the BBC.
I cannot describe how amazing the whole staff at Circomedia are. They worked tirelessly to deliver the perfect wedding. If your looking for a show-stopping wedding that's anything but ordinary then this is the place for you

– Melanie Chitty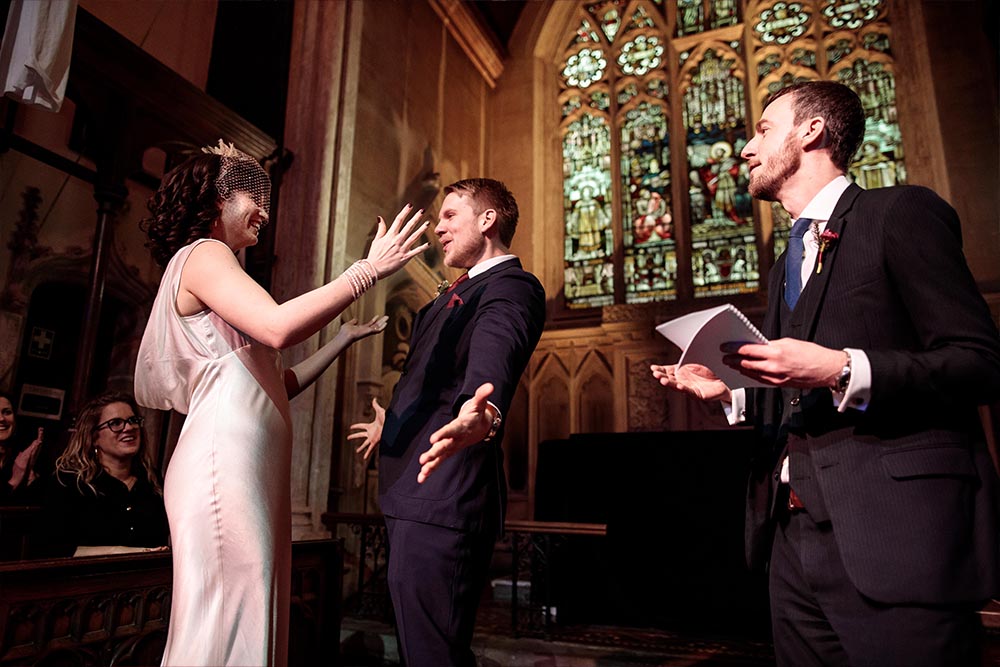 Built in the 1790s, the church was restored through an awarding-winning collaboration with The Churches Conservation Trust which was completed in 2005. Traditional features are in abundance, dramatic stained glass, soaring pillars, original tiling and ceramics. Partnered with our theatre quality lighting and sound rig, fully stocked bar, late licence, and our impressive list of world-renowned circus performers your event is sure to be one to remember.
Frequently asked questions
Usually, the venue can host 400 standing and 120 seated guests. 
Currently, we can safely host up to 70 seated guests with tables and approximately 50 seated guests if the upper gallery is used.  Standing reception capacities will need to be risk assessed on a case by case basis. 
Yes, there is wheelchair accessibility through the front entrance and throughout the building with the exception of the balcony seats. There is a fully accessible toilet on the ground floor. 
There are public parking bays on Portland square. There is usually plenty of bays available on weekdays, weekends, and evenings. You will need to pay for this parking at the current inner City rate set by the local Council. We do not have private off-road parking.  
Yes, we have a good PA system suitable for speeches and DJs. If you have any live music such as a band, they will need to bring their own PA system. Our technical team can be on hand to assist with installing it. 
In addition, we have two microphones for speeches. 
We have 11 large round tables that can seat up to 11 people. We have approximately 6 large trestle tables that can seat 6 people. We have comfortable padded fold-out chairs. You are welcome to use these at no extra cost. 
In addition, we have black table cloths and black stretchy chair covers you can hire at a small charge. 
There are tables, chairs, and pews in the main hall and within the foyer that you can use for break-out space.
Our bar is situated in the foyer, this can serve draft beers and ciders alongside chilled bottles, wines, cocktails, soft drinks, and hot drinks. A second pop-up bar can be placed in the main hall to serve cocktails, shorts, wine and bottles should you wish.  
We have staging that can be rigged to your specification, just ask! 
We have that covered! We have a theatre-grade lighting rig that can create stunning, ambient lighting for your event. We have spotlights for tables, stages, and pulpit. You can create your own lighting design with our tech team, anything is possible and they are on hand throughout your events to change the lighting throughout the day or night to suit your program.  
Naked flames are not permitted but we have small flickering electric fairy lights and holders for you to use. 
Of course! We can rig décor from the ceiling if you have any and there are plenty of areas you are welcome to use such as foliage around the floor the veiling pillars or bunting throughout the foyer. We can be on hand to assist in rigging it for you. 
We also have a range of coloured silks you can hire that create a stunning aerial centerpiece. 
If your event is on a Saturday then most of the time Friday night. If it is a weekday then you might have to bring your kit and equipment with you on the day. Just speak to our events team and they will be as accommodating as possible. 
You can leave small items in the green room until Monday if your event is on a Saturday, large kit such as PAs for bands will need to be taken with the band/hirer on the night. 
You can hire the space for 
Afternoon 1:00pm – 6:00pm 
Full day 8:00am – 1:00am (with weddings usually starting at 11:00am) 
We are licensed to 1am, our bar closes at 12:30am  
We can offer you the space on a half-dry hire basis; you cannot bring your own bar and we will always have an in-house tech person on-site to run the sound and lighting.  
However, should you want to bring all your own event furniture, décor/staging, and PA you would be more than welcome to do so and fees are negotiable. 
Usually, we only allow our carefully chosen caterers on-site however due to COVID19 and the restrictions that have brought us, we will allow external caterers on-site in 2022. Please note no naked flames are permitted in the building so they will need to use electric cookers (not gas) and we will need to have a quick site visit with them before your event takes place.  
You are able to bring external outdoor caterers (using gas) to the front lawn and festival-like catering vans can park immediately outside the entrance gates.
The circus performers are included in some of the wedding and Christmas packages and you are able to choose all kinds of circus shows for any event. We have a huge range of professional world-renowned artists and we will work closely with you to select the right ones for you. They include; aerial hoop, silks, fire juggling, trapeze, circus workshops, you can even have a hoop aerialist scattering petals over your guests in the entrance as they arrive!  
The choice is yours and your guests will definitely be wowed. The length of the acts range from 5-20 minutes and we usually program 2-3 shows during your event.