Circomedia Academy for Contemporary Circus and Physical Theatre
Founded in 1986, Circomedia is a world-renowned centre for contemporary circus and physical theatre training in the UK. We believe in promoting circus in Bristol and beyond.
Our BTEC, Degree, and MA courses combine high-calibre skills tuition and body training with the development of creative thinking, presentational flair and business know-how. As a result, our graduates develop into accomplished creative artists that challenge the perceptions of circus and physical performance.
We curate a fascinating and innovative performance programme from our venue in the heart of Bristol. In the grand Georgian surroundings of St Paul's Church, you can discover some of the most exciting circus, physical theatre, and dance companies from the UK and beyond.
Our adult classes cover a range of aerial and acrobatic disciplines and are designed to cater to all levels. We are home to one of the largest Youth Circus in the UK with over 300 students.
What do our students think of our courses?
Our National Student Survey results are in and you can now see what our students think about our teaching and how we compare to other university courses.
Introducing Our Academy
If you want to study circus with physical theatre and develop as a new kind of performer, then look no further than Circomedia. Our Circus Academy offers a range of full-time courses delivered in partnership with City of Bristol College and Bath Spa University. We are proudly based in the vibrant city of Bristol, famous for its thriving performance industry and links to the wider circus and theatre community.
Adult Classes
From complete beginners taking their first tentative steps into aerial, to those of you who long ago mastered the ropes, our excellent teachers will help you discover and develop a passion for circus skills.
Why not use our new classes menu page to explore all of our classes and search by discipline, level, venue, and day of the week.
Hire Our Venue
Our dramatic Georgian church in the centre of Bristol offers a beautiful venue for your wedding, Christmas party, conference, or another special occasion. With a full theatre grade lighting rig, professional sound and tech support, and access to a huge range of world-class circus entertainment, there really is no one who can do it quite like us…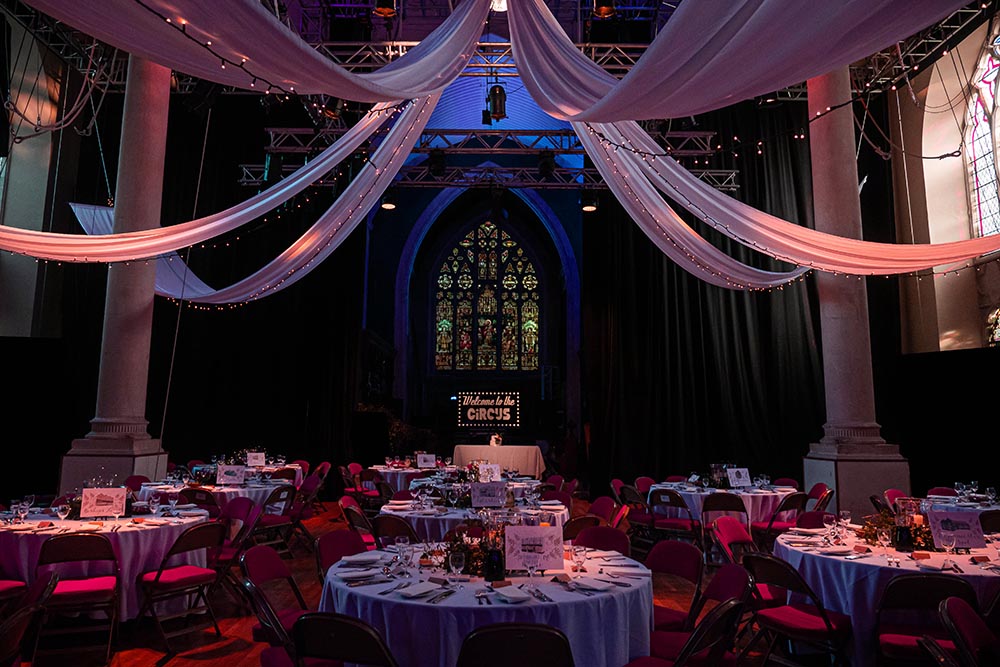 Youth Circus
Circomedia Youth Circus is one of the biggest in the UK with over 300 students. It offers children aged 2 – 18 the chance to enter the extraordinary world of contemporary circus and physical theatre through weekly classes and a series of circus camps held throughout the year. Our groups cater to all different ages and abilities and you don't have to have previous experience!
Led by our professional circus tutors, our after-school sessions offer a varied programme of acrobatics, aerial skills, manipulation and equilibristics, and performance skills. Children will try everything from diabolo to trapeze over the course of the year,  and develop their coordination, build physical and mental resilience and make friends in a relaxed, creative environment.